Smegazine 7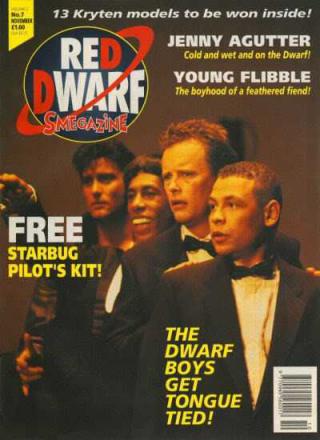 Sommaire
Smegatorial
Comics: Home of Lose Causes, partie 2
News From the Dwarf
Interview: Chris Barrie
The Junior Encyclopedia of Space
The Remarkable Red Dwarf Databank
Fiche Signalétique: The Skutters
Red Any Good Books Lately?
Comics: One For All
Don't Say "Cut", Say "Pizza!"
Comics: Young Flibble 1
Rimmer's Record
Tongue Tied & Taped!
The Special Effects: The Asteroids
News From the Omni-Zone
Comics: The Case of the Cop's Comedown, partie 2
Holly-Grams
Androids
Interview: Jenny Agutter
Red Dwarf for Sale!
Publication
Novembre 1993
Lire le smegazine
Télécharger le smegazine